Questions raised after Raila takes daughter on US trip
2 min read
In his trip to the United States alongside President Uhuru Kenyatta, African Union envoy Raila Odinga tagged his daughter Rosemary Odinga along as they attended the National Prayer Breakfast.
On Thursday, February 6, Odinga posted a photo of the three and captioned an inspiring message to Kenyans.
"Joined guests from across the globe at the 68th Annual US Prayer Breakfast. Faith moves mountains. Faith has inspired many nations and nationalists and carried them through, even when the situation seemed dire and bleak. As a country we must never forget that our faith that we deserve better can make us realize our dreams," Odinga proclaimed.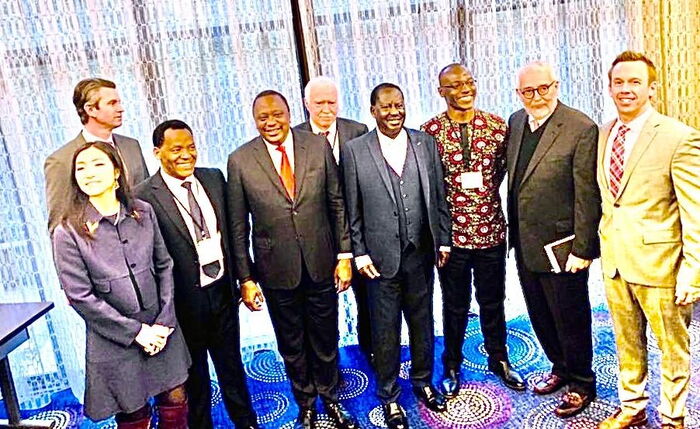 However, Kenyans wondered why Odinga had to tag his daughter along. Others wondered why the two were celebrating when the country was in mourning after the death of retired President Daniel Arap Moi.
"The two brothers are about themselves and their dynasties. There is no single foreign trip that they would make without their close relatives. For Raila, it's either Winnie or Rosemary (since she's no longer blind). For Kenyatta, it's his brother George Muhoho who mostly wouldn't miss the flight. They use state resources for personal business.
"Yet you hear people joining their stooges and puppets in support of dynasties' self-preservation campaign dabbed BBI. Emancipate yourselves from mental slavery!!" Moses Kamau lamented.
"Is Rosemary building bridges with Melania Trump or what's the catch here??" Alex Musyimi wondered.
Others argued that Deputy President William Ruto was steering the nation well in the absence of Kenyatta and Odinga.
"While the two of you were away, the country has been so peaceful, there has been unity in the country, the DP has been in charge of the country and nobody missed your presence," Alfason Kiplagat argued.
Odinga's international trips, in which he has numerous times been accompanied by his children, have been the subject of discussion for years.
In October 2018, his daughter, Winnie Odinga, was criticised by a section of Kenyans online after she accompanied Odinga on his first engagement as a special African Union envoy in Midrand, South Africa.
Reports surfaced later, claiming that Raila had appointed Winnie as his personal assistant.
In May 2019, the former PM and his son, Raila Odinga Junior met President Mahamadou Issoufou of Niger at his presidential palace in Niamey.
Odinga and Issoufou held discussions on the African Free Trade Area, the Inga Dam, as well as the Open Skies agreement.