Strange Things Kenyans Noticed as Kibaki Viewed Moi's Body
2 min read
A section of Kenyans were quick to make various observations as former President Mwai Kibaki viewed his predecessor Daniel Arap Moi's body at Parliament buildings on Saturday, February 9.
Kibaki took over as President from Moi in 2002, bringing to an end twenty four years of Moi's rule in Kenya. Moi had become Kenya's second president in 1978 when founding President Jomo Kenyatta passed on.
Kibaki's convoy snaked its way to Parliament at around 11.35 am, with the country's second President leaving the area at noon after viewing the body.
Media houses were, however, not allowed to broadcast live pictures of Kibaki leaving the car or viewing the body, raising eyebrows. Official images from Kibaki's visit to Parliament were later shared with newsrooms by State House.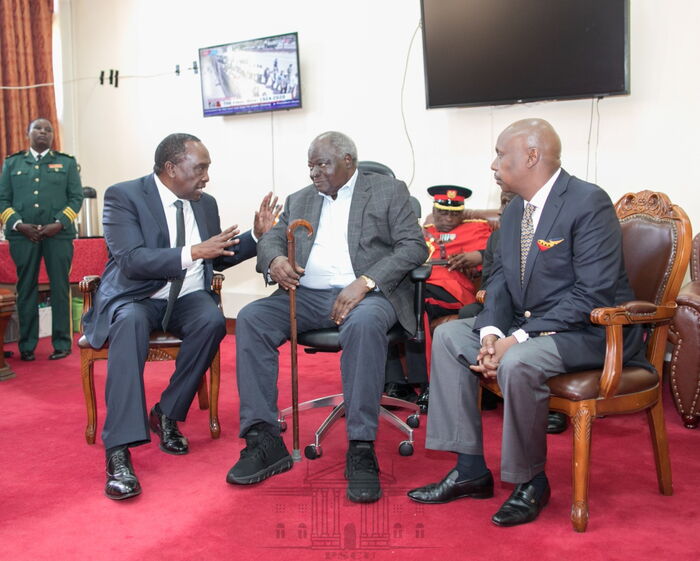 It was an image of Kibaki wearing black sneakers and chatting with Moi's sons Gideon and Raymond that, however, caught netizens' attention.
A section of Kenyans spotted all sorts of things in the photo sparking debate, from Kibaki's shoes to the security officer seemingly snoring behind him.
While some were quick to castigate the 'sleeping' military officer behind Kibaki, a closer look at the image confirmed that the officer was looking at something he was being shown on a phone by someone sitting next to him
It was further indicated that Kibaki's shoes, which had led some to praise him for his sense of style, were orthopedic shoes specially designed to offer medical benefits not available in regular footwear.
Orthopedic shoes are specifically designed to support the mechanics and structure of the foot, ankle and leg.
Others criticized the swivel chair given to Kibaki at Parliament buildings.
Sample some of the observations Kenyans made on the photo of Kibaki, Gideon Moi and Raymond Moi as shared below.
"Gideon Moi's barber has a very simple job!" exclaimed Moses Festo Dembele.
"That soldier sleeping in the background is a complete letdown to the disciplined forces," Jackson Omudi reacted.
"They couldn't find anyone to fix those hanging TV cables and I'm just here," lamented Peter Munene.
"Shame on the guys who gave our best president that kinyozi chair," wrote Boniface Kinaro.
"Kibaki looks good," noted Kay Flex.
In an update issued on Sunday, head of Civil Service Joseph Kinyua revealed that at least 10 heads of state were expected in the country for a national memorial service to be held at Nyayo Stadium in Moi's honor on Tuesday, February 11.
Watch a video capturing the moment Kibaki arrived at Parliament buildings below: