Kenyan men 'escape' to Valentine's Day conference
1 min read
What started out as a joke on social media in Kenya about one of the ways men could avoid their partners on Valentine's Day, has become a reality.
The suggestion that men tell their other halves that they are attending a Men's Conference – has become a reality.
This year an actual Men's Conference is being held at a five-star hotel in the capital, Nairobi.
In a clip shared by a local broadcaster, participants discuss different topics, including leadership in households and mentoring of young men.
A panel of male speakers have been exchanging religious and cultural views on relationships:
Citizen TV Kenya✔@citizentvkenya
The panel at the #MensConference2020 is ready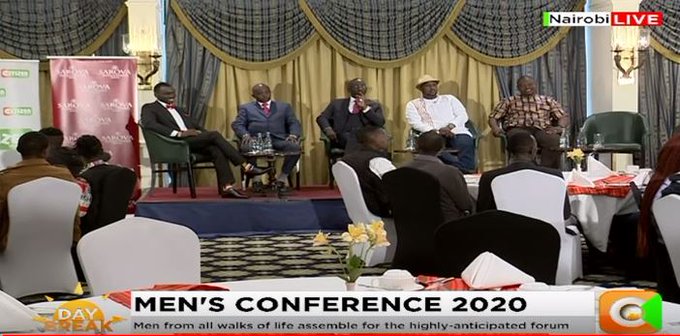 18607:48 – 14 Feb 2020Twitter Ads information and privacy94 people are talking about thisReportReport this social embed, make a complaint
However, the conference has been criticised for allowing women in the audience.
"The #MensConference that is being televised on Citizen is a Joke. How are women allowed in a men's only function? This is just evident enough that some 'elites' want to hijack the event and make profits from it. Without Mzee Kibor, Issa scam.#MensConference2020," tweeted Bravin.
"We are informed of some mediocre parody of the #MensConference2020 happening on Citizen TV. Kindly boycott, avoid, ignore and block, it has been pushed by feminine agenda. Be informed the #MenConference2020 is a private thing with top-notch secrecy,"