Boda boda rider shot while rushing patient to Mama Lucy hospital
2 min read
A boda boda operator was shot by an officer from the Administration Police at Mama Lucy Hospital in Umoja II Nairobi, on Tuesday, February 18.
Reports emerged that the rider was denied entry into the hospital when the scuffle ensued. It is then that the officer pulled the trigger and allegedly shot the man in the chest.
The boda boda operator was said to be ferrying a young boy who had drowned in a pool of water to the facility.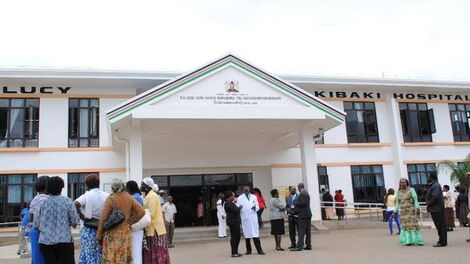 People stand outside the Mama Lucy Kibaki Hospital in Umoja II, Nairobi. TWITTER
A video showed irate members of the public and boda boda operators protesting outside the hospital. However, the sounds of gunshots as in the footage caused them to scamper for safety.
Nairobi County Director of Communications Jacob Elkana said that the county was not in a position to comment on the act by the officer, but was aware of a child that had drowned in Korogocho area and had been rushed to the facility.
"The county is only aware of a young boy who had drowned at the Korogocho area, he was rushed to the Mama Lucy Hospital. Later around 200 boda boda riders stormed the hospital,
"Anything more than that, I don't know," Elkana stated.
It was reported that the rider was shot for allegedly defying the rules and rode his motorcycle into the hospital.
The publication reported that the operator, since identified as Daniel Mburu was confronted by the officer after he had dropped off the patient at the hospital.
Mburu had ridden past security at the entrance and rushed the child into the facility.
A scuffle ensued after the officer sought to find out why Mburu had defied the hospital rules, where motorcycles are banned within the premises, but he argued that he had an emergency and the gates were open.
It was during the confrontation that Mburu was shot, and according to the publication, later succumbed to injuries.
Nairobi police commander Phillip Ndolo stated that the matter was under investigation with the intent to take necessary action.