3 more Coronavirus cases confirmed in Kenya
2 min read
Health Cabinet Secretary Mutahi Kagwe on Wednesday, March 18 announced the confirmation of three more Coronavirus (Covid-19) cases in Kenya.
The announcement brings the total number of confirmed cases in the country to seven.
Among the three new confirmed cases is a Burundian national who arrived in Kenya from Dubai on March 17.
The other two, a couple from Spain, arrived on March 4, landing at the Jomo Kenyatta International Airport (JKIA) from Dubai as well.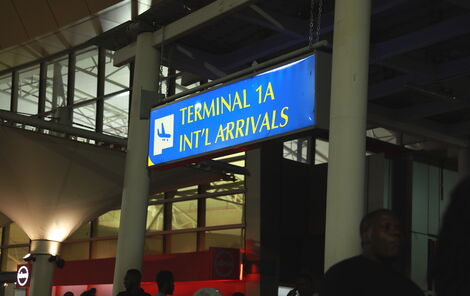 Jomo Kenyatta International Airport (JKIA) International Arrival Terminal. Thursday, February 14, 2020.SIMON KIRAGUKENYANS.CO.KE
"As of today, we have an additional 3 cases of Coronavirus bringing the current number of cases in Kenya to 7 confirmed cases.
"All these are imported cases from outside the country. Of the 3 is a couple from Spain & a Burundian from Dubai," he told reporters at a press conference.
Kagwe stated that efforts were being made to track down individuals who might have come into contact with the individuals.
Kagwe further shared that a major threat in Kenya's strategy to prevent the spread of Covid-19 was Kenyans coming into the country having visited foreign countries affected by the virus.
Kagwe warned of dire consequences for those who failed to self-quarantine on arrival, noting that they were required to swear a legal document promising to do so.
Kagwe further disclosed that they had engaged doctors and experts from China on Wednesday, March 18 via video conference.
The conversation involved at least twenty other African countries and saw the Chinese team offer advice and expertise on best practices to combat the spread of the virus which was first reported in Wuhan, China.
"We were in a video conference with doctors from Wuhan, China. It gave us a tremendous amount of knowledge which will help our people," he stated.
In addition, he stated that each of the 47 counties had already received 25 testing kits in case of any emergency.
He announced that from Thursday, March 18, the rest of the equipment requested by county governments to brace themselves for the virus would be dispatched to the devolved units.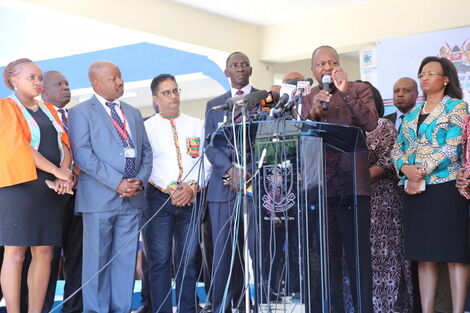 Ministry of Health Cabinet Secretary Mutahi Kagwe addresses the media from the Mbagathi District Hospital on Friday, March 6, 2020SIMON KIRAGU