Uhuru drives himself around Nairobi to inspect Covid-19 directives compliance
2 min read
President Uhuru Kenyatta on Sunday, April 26 reportedly drove himself in an impromptu ride around Nairobi inspecting the implementation of various government directives on the Covid-19 pandemic.
The President was sighted in his trademark black G-Wagon alongside four security vehicles which made up his convoy. Uhuru made his way to a roadblock in Ndenderu, Kiambaa along the Nairobi-Nakuru highway where he stopped at around 1.25 p.m.
The President took time to engage the police officers manning the roadblock in conversation, calling for strict enforcement of the travel restrictions he announced banning movement into and out of the Nairobi Metropolitan Area.
Questioned by Kenyans.co.ke on the nature of Uhuru's low-key ride, State House Spokesperson Kanze Dena simply stated: "No comment."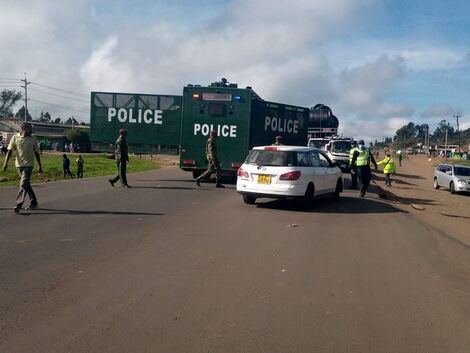 Police set up roadblocks isolating the Nairobi Metropolitan Area on April 7, 2020.
Uhuru also reportedly thanked the officers for their work, praising them for playing their part in the fight against the virus.
As it started raining, Uhuru is said to have left the roadblock, heading towards the Ruaka area in Kiambu County.
Uhuru had extended the cessation of movement order for the Nairobi Metropolitan Area, Mombasa, Kilifi and Kwale Counties by 21 more days on Saturday, April 25.
In an emerging trend, the President was spotted driving himself around the city later that day with three Toyota Land Cruiser vehicles in tow.
He made his way to the offices of Mediamax Network Limited, which owns television, radio and print operations including K24, Milele FM, People Daily and Kameme on Saturday, April 25.
The President was spotted entering the company's DSM Place Headquarters along Kijabe Street at around 6.30 p.m.
According to sources who spoke to Kenyans.co.ke on Sunday, April 26, the President joined a board meeting as it neared its conclusion.
The board meeting had been convened to primarily discuss the publicized wrangles at the company over a proposed 50% pay cut for employees, with some members of staff also pushing for the removal of Chief Executive Officer (CEO) Ken Ngaruiya.
"The Mediamax board met yesterday. It resolved to hire a substantive CEO, who is not Ngaruiya. The fate of Ngaruiya remains unclear.
"Anytime this week, the board will announce new 'reasonable' pay cut measures. Much lower percentages. That is why the president came," the source disclosed.
With the firm associated with the Kenyatta family, it was allegedly feared in some quarters that the dramatic headlines surrounding Mediamax could reflect negatively on the Presidency.
It was not the first time, however, that the President was spotted driving himself, having done so on several occasions.
In February, he drove himself to Nyayo Stadium to inspect preparations for former President Daniel Arap Moi's National Memorial Service and was previously pictured in traffic in Nairobi in February 2019.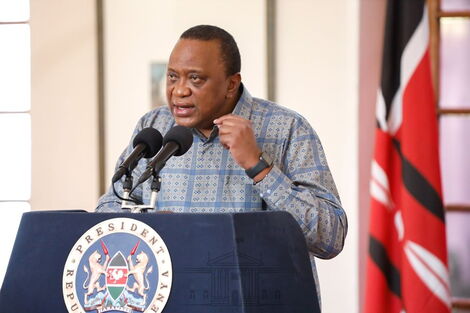 President Uhuru Kenyatta addressing the nation from State House Nairobi on April 25, 2020.