Man burnt alive after car bursts into flames inside a Nairobi estate
2 min read
A man identified as Terrence Korir, was on Wednesday, April 29, burnt to death inside his car in Buru Buru Phase 5 estate.
An eyewitness who was present as the car went up in flames, revealed that the tragic incident occurred at around 8 a.m., within the Mai Mahiu Court in the Nairobi estate.
"I ran outside with a blanket (to help in putting out the fire) on hearing that there was someone trapped inside a car that was on fire, sadly, the car blew up before I even made it out of my gate,"
"We still don't know the events that led up to the sad incident. The firemen who came to the scene were also puzzled," he narrated.
The car that burned down in Buru Buru Estate, Nairobi on April 29, 2020.FILE
Police authorities began investigations into the matter, after arriving at the scene and collecting evidence.
According to the witness, it is not yet clear whether there were incendiary devices within the car that resulted in the fire, as the entire interior of the car was burnt to a crisp.
From the photos, the passenger seat could be seen in its metallic-frame state, further fuelling speculation over the cause of the fire.
Firemen at the scene also questioned the posture in which they found the body of the victim in, as it showed no sign of a struggle to get out of the burning vehicle.
The incident rekindled memories of a fire-related tragedy that struck on April 9, in Mutitu Village, Nyandarau County where three children who were in a house burnt to death as the fire consumed the home.
Gideon Ngumi, the Nyandarua Police Commander speaking to Kenyans.co.ke provided that the children were in the house alone when the fire started.
"Their mother had locked them in as she went about her business," he stated.
It was during this period that the children were thought to have been playing when they inadvertently caused a fire that set the house ablaze.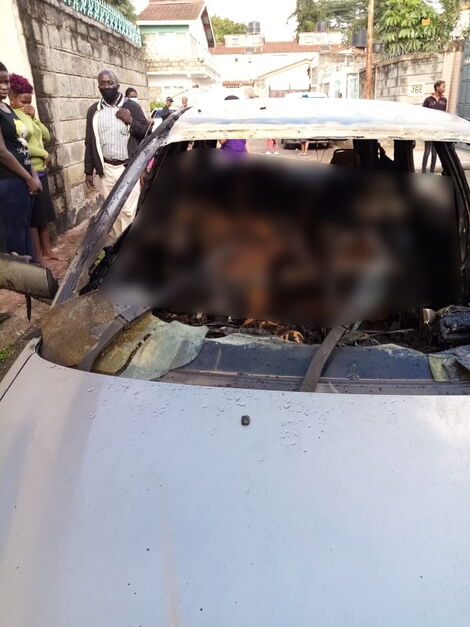 The car that burned down in Buru Buru Estate, Nairobi on April 29, 2020. One man died in the tragic incident.FILE