Homeless 13-year-old stands up to Rift Valley Regional Commissioner Natembeya over clashes
2 min read
A brave young boy has become the face of ethnic strife in sections of the Rift Valley region after a video of the 13-year-old confronting Regional Commissioner George Natembeya in Narok went viral.
The video that surfaced online on Wednesday, May 27, showed Natembeya calling out the young boy from a gathering before interrogating him.
"Whose son is this?" Natembeya asked the crowd while signaling the boy to step forward.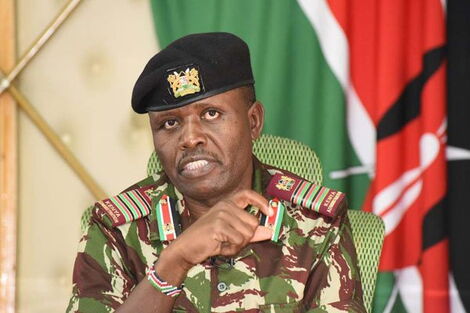 George Natembeya addresses journalists on destruction in the Mau Forest Complex in his office in Nakuru on September 13, 2019.DAILY NATION
The young man responded that Thomas, his father, was away herding cattle.
"Our house was burned down. We have nowhere to live and our maize farm destroyed," the young boy told the regional commissioner.
"The war started from…" the 13-year-old attempted to explain before he was cut short.
"I have not asked about violence, I want to know your name," the commissioner enquired and the boy interrupted with a question of his own, "Why are you destroying our crops?"
Natembeya seemed at pains to answer and stated that the young boy had been raised in a violent environment.
"If a boy like this grows up in this kind of environment, what does he learn? I saw him on TV the other day holding a bow and arrows," Natembeya stated.
Elgeyo-Marakwer Senator Kipchumba Murkomen called out Natembeya for what he described as being insensitive to the plight of the homeless boy.
"I feel for this boy. I went through this stuff. It's painful. Instead of answering the critical questions asked by this boy, Natambeya is busy asking extraneous questions. Pathetic," the senator wrote on Twitter.
Law Society of Kenya President Nelson Havi also supported the 13-year-old's bravery.
"When a thirteen-year-old boy is more intelligent and manifests better leadership abilities than unconstitutional provincial and district commissioners. Some dirt cannot be rid by washing and sanitising," he lashed out in a social media post accompanied by the video.
The flare-up of ethnic clashes on the border of Narok and Nakuru counties has left six people dead and at least 13 others injured by Tuesday, May 26.
The clashes between two communities, which erupted on Saturday, May 23, in Oloruasi and Ololoipangi villages and in Olpusimoru on Sunday evening, have seen more than 20 houses burnt leaving and several families displaced.