Why 'Kanungo' Hitmaker Otieno Aloka Faces Arrest
2 min read
'Kanungo eteko' singer Otieno Aloka faces arrest after a live show on Saturday, August 15, saw him come under fire over what many considered derogatory and insulting lyrics.
Kenya Film Classification Board (KFCB) Chief Executive Officer Ezekiel Mutua on Sunday, August 16, announced that the Directorate of Criminal Investigations (DCI) had been alerted to arrest the singer and the producer responsible for the Facebook live performance.
He accused Aloka of promoting paedophilia and degradation of women. The producer of the show, on the other hand, was accused of failing to obtain a filming license from KFCB.
Mutua further disclosed that they had reached out to Google in a bid to have the live show pulled down from YouTube. Videos of the show, particularly snippets of the offensive lyrics, were widely circulated across social media.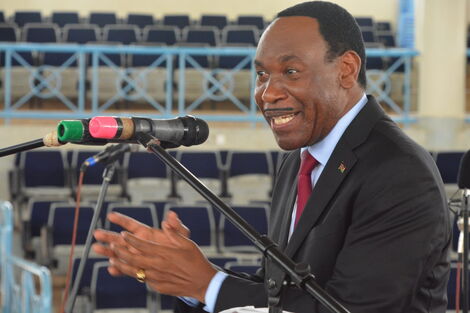 KFCB CEO Ezekiel Mutua addressing a forum at Kenyatta University in Nairobi on February 22, 2020TWITTER
Among the numerous Kenyans who demanded that action be taken on Aloka over the live show was Kisumu Woman Representative Rosa Buyu.
"We are grateful to the public and especially national leaders like Honorable Rosa Buyu who has brought the dirty video to our attention and gone public in condemning it," Mutua wrote.
The KFCB boss cautioned that children, at home due to the Covid-19 pandemic, faced increased risk of consuming harmful content.
"Owing to Covid-19 and the e-learning program due to closure of schools, most children have access to gadgets and we need to protect them from exposure to harmful content by ensuring that content meant for adults is not circulating online.
"Content does not have to be dirty to sell and our artistes must know that such dirty content will also be consumed by their children," he wrote.
The singer later issued a brief apology video, stating that he did not intend to cause offence to women or anyone else with his performance.
Mutua has trained his sights on vernacular musicians in recent months, accusing them of creating obscene and harmful content.
In June, for instance, he blamed vernacular artistes from the Kamba community for the spike in teenage pregnancies during the Covid-19 period.
He argued that they contributed to the dire situation with obscene stage names, music videos and lyrics.
File image of Ohangla artiste Otieno AlokaFILE